Calistoga's Bear Flag Inn bed and breakfast sits on land that offers a unique bit of California history. The inn was once the John Cyrus Ranch established in the 1860's. John married Lovina Graves, a Donner Party survivor, and settled down to raise his family here.
Peter Storm was a long-term guest at the Cyrus home. Storm gained notoriety as the creator of the first California state bear flag raised after the Bear Flag Rebellion in Sonoma, CA. His flag was eventually replaced because the bear, on his hind legs with claws beared, appeared too vicious. When Storm died, he was buried with his original flag — right here in Calistoga.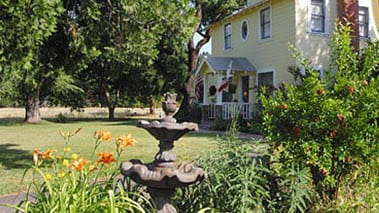 While John Cyrus' grandson, Milton Sherwood, was installing a gasoline water heater for his mother in April 1932, the heater caught fire and the house burned down. Before the end of the year, Milton had built the house that exists here today. He sold it in 1985, and it then became a bed and breakfast.